Olympic EZ Curl Bar
$104.99 CAD
The COREFX Olympic EZ Curl Bar is 47" in length, 25 mm in diameter with a length of 7.3 inches. This bar weighs 10.5 pounds and can hold up to 150 lbs of additional weight. Accommodates with the standard 2-inch plates.
30 in stock
Description
The COREFX Olympic EZ Curl Bar allows for lifters to have a narrow grip when completing close grip curls and triceps extensions, helping isolate muscles and create sculpted arms. The unique bends of a curl bar help minimize stress on the wrists, which can help reduce the likelihood of injury. 
Features:
• Develops grip strength and endurance
• Chrome Finish
• Shaft Diameter – 28.5 mm
• Overall length – 47 inches
• Knurl – Medium
• Weight – 22.3 lbs.
• Max Loading Weight – 300 lbs.
Brand
COREFX

As an industry leader in high performance strength and conditioning equipment, COREFX uses real-world field testing and cutting-edge innovations to provide the highest quality of products. COREFX has an unmatched selection of strength, resistance, cardio and recovery equipment that will help fitness athletes of all levels harness their maximum potential, increase their overall health, and find their Strength From Within!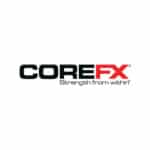 Additional information
| | |
| --- | --- |
| Weight | 22.3 lbs |
| Dimensions | 47 × 3 × 3 in |